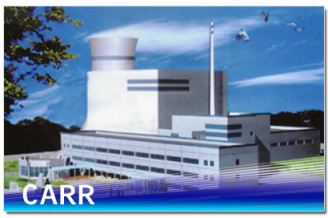 After 50 years of service for the Research & Development in neutron science and technology, the Heavy Water Research Reactor (HWRR) (maximum power 10 MW) at China Institute of Atomic Energy (CIAE) was shut down in 2007. The 60MW China Advanced Research Reactor (CARR) at CIAE has taken over this role, which has reached the first criticality in May, 2010. It is a tank-in-pool type reactor using a D2O reflector for inverse neutron trap, and the designed optimal undisturbed thermal neutron flux is 8×1014 n/cm2•s. The reactor experiment hall houses a set of instruments connecting to 7 horizontal thermal neutron beam tubes, two of which are dual beam ports. Additionally, cold neutrons produced by a liquid hydrogen cold source are transported via 4 guide systems to the 30 × 60m2 guide hall, where a suite of scattering instruments are placed.
Website: http://www.ciae.ac.cn/eng/Researchprograms/05.htm
Location: Beijing, China
Text retrieved from CARR website.