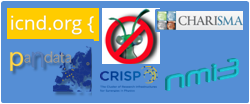 On these pages you can find information and links to relevant neutron resources:
Projects
Software
Tables
Educational material
The neutron centres worldwide benefit from fruitful collaboration across facilities and institutions. Current projects are providing the users with fundamental funding and resources to perform their experiments in a myriad of research fields such as arts, medicine, transport and many more.
Through important collaborations scientists are developing software for more efficient data analysis. Networking between developers ensures widespread exchange of information about developments already underway and encourages rationalisation and co-development wherever possible.
Furthermore, collaboration among researchers provide relevant neutron scattering tables to support science on diverse areas such as crystallography, powder data and isotopes.
Early career researchers or researchers with a diverse background, can get insights into neutron techniques by attending neutron schools taking place across the world.