Copyright 2012 neutronsources.org | All rights reserved. | Powered by FRM II | Imprint / Privacy Policy
Stories

Between the cultures and neutron sources

Dr Pascale Deen talks about her work at FRM-II in Garching Germany and the European Spallation Source (ESS) in Lund, Sweden as well as her life with a family.

The first female Physics Professor

Laura Bassi was born in Bologna, Italy in 1711 and was the first woman to become a professor in physics at a Eurpoean university. Read her story here

Discoveries that changed the world: James Chadwick and Lise Meitner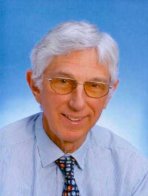 Lise Meitner is a woman who played a pivotal role in the discovery and development of nuclear fission.
"Discoveries that changed the world: James Chadwick (1891-1974) and Lise Meitner (1878 – 1968)" links to a YouTube recording of a talk by Gerry Lander at the Institut Laue Langevin, Grenoble, France, on 16-Jan-2015 telling the story of the discovery of the neutron in 1932, and then that of fission in 1939 through the lives of Chadwick and Meitner and world events.
To watch the video click here.

Professor Dame Julia Higgins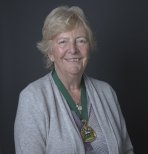 Professor Dame Julia Higgins talks about her life and becoming IOP president. Read the article

Dorothy Crowfoot Hodgkin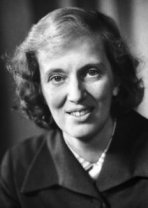 Nobel Prize winner Dorothy Crowfoot Hodgkin was a pioneer in X-ray Crystallography techniques. Read more

2018 WiN Award to Ms. Carla Notari

Ms Carla Notari, Dean of the Dan Beninson Institute of Nuclear Technology in Argentina, has been awarded the 2018 Women in Nuclear (WiN) Award for her long contribution to the field of nuclear physics.

Women Changing the Face of Nuclear Industry

An article about Choosing Careers in Nuclear Science and Technology by David Cardenas-Mazurkiewicz from the IAEA Division of Public Information for the International Atomic Energy Agency (IAEA) Newsletter.

Dr Uschi Steigenberger OBE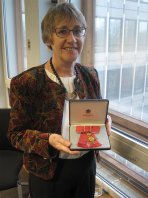 The sad announcement of the death of Dr Uschi Steigenberger OBE, inspirational scientist and former Director of ISIS.
Izabela Sosnowska: Mission in the third generation

Izabela Sosnowska's groundbreaking results were hardly noticed when she first made them. Today, her publication "Spiral magnetic ordering in bismuth ferrite" is one of the most cited papers in the Journal of Physics.

ANSTO instrument scientist awarded AIP lectureship

The Australian Institute of Physics (AIP) has announced that Dr Helen Maynard-Casely, an instrument scientist at ANSTO, has been selected as the 2019 'Women in Physics Lecturer'.