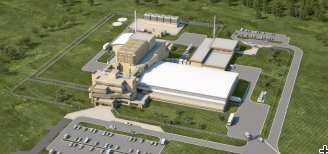 Argentina is currently building a new multipurpose nuclear research reactor, called RA-10, meant to replace the current RA-3 in radioisotope production to cover the nation demands. The reactor has been conceived and designed to fulfill two further objectives: the testing of nuclear fuel and materials by providing irradiation facilities, and the production of thermal and cold neutron beams for applications in science and technology.
Within the context of this project, which is supported by Argentina's National Administration, a project for an Argentinean Neutron Scattering Laboratory has started, aimed at providing neutron beams to feed a suite of instruments for scientific and technological research at both national and international levels, e.g., as a new international "Large Experimental Facilities". This will open up huge opportunities for novel experimental research using neutrons, not only in Argentina but in Latin America, where these techniques are currently scarcely used. It also poses the challenge of developing a strong community of users to make the most of the facility.
The Argentinean Neutron Scattering Laboratory at RA-10 will deliver cold and thermal neutrons through neutron guides to an experimental hall where the instruments are to be located. The expected fluxes of these beams at the sample´s positions will be comparable in performance to the OPAL reactor in Australia, and the FRM-II reactor in Germany. Moreover, two instruments are already being designed to be located inside the reactor hall, profiting from the higher fluxes available at the reactor face. They respond to scientific and technical demands from the Argentinean Atomic Energy Commission, and consist of a neutron imaging/tomography instrument and a multipurpose diffractometer for large components, mainly designed for stress-scanning and texture measurements.
To sum up, the Neutron Scattering Laboratory at the new RA-10 reactor promises to foster neutron research in Latin America, and will demand collaborative efforts to strengthen and develop the community of users is our region. To this end, an ambitious program is being launched including Schools, Workshops and Meetings related to neutron scattering techniques.