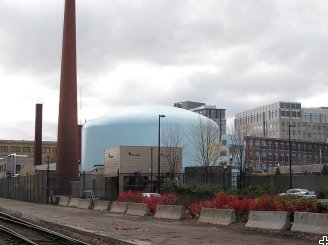 The MIT Nuclear Reactor Laboratory (MIT-NRL) is a university laboratory that conducts interdisciplinary research in the areas of advanced fuel and materials for nuclear energy systems, nuclear science, nuclear medicine, and radiation science and technology. The 6 MW MIT Nuclear Research Reactor (MITR) is equipped with experimental facilities available to users both within and outside MIT. We also provide technical assistance for research projects for high school students, undergraduate and graduate students, university researchers and faculty members, and national laboratory users.
The MIT-NRL was selected as the leading laboratory of the New England Consortium in DOE's Innovations in Nuclear Infrastructure and Education (INIE) program. With the INIE funding, research is ongoing to support advanced nuclear energy systems and materials which are essential to both the GenIV reactors and the Next Generation Nuclear Plants (NGNP). In addition, a national user center has been formed for Boron Neutron Capture Therapy (BNCT) research which provides access to MITR's high quality thermal and epi-thermal neutron irradiation facilities.
As a partner in the Battelle Energy Alliance which now operates the newly formed Idaho National Laboratory (INL), we are seeking to establish a preeminent university center for research and education in the areas of fuel and materials research for advanced nuclear systems fully integrated into the missions of the INL. Through our partnership with the Advanced Test Reactor National Science User facility (ATR-NSUF), researchers from U.S. universities, national labs and industry have the opportunities to compete for cost-free access to the MITR's experimental facilities.
Location: Massachusetts,

USA