Date: 11/10/2016
Source: ill.eu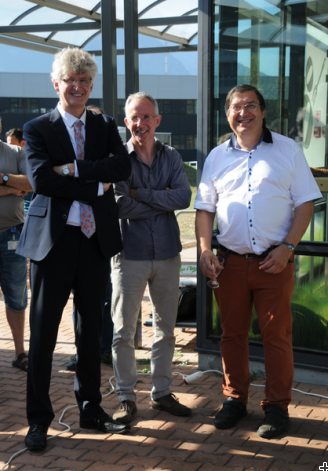 The new Management team at ILL
On 1st October, Helmut Schober became the new Director of the ILL, taking over from Bill Stirling.
Mark Johnson is the new Science Director and British Associate Director of the ILL. Last but not least, Alexandre DURAND has replaced Manuel Rodriguez as the new Head of Administration at the ILL. Mr Durand joins the ILL from the CEA, where he worked in the directorate of finance and programmes.
Bill Stirling on retirement
On Thursday, 29 September, ILL celebrated the retirement of Manuel Rodriguez-Castellano, Head of Administration since 2012, and Bill Stirling, after a tenure of 33 months at the ILL.
Bill was in fact Director General of the ESRF for nine years. It was a time when our two institutes began to cooperate much more closely and, thanks to the CPER contract, set in motion the creation of the EPN campus. From 2009 to 2013 Bill then worked in the GIANT team at the CEA-Grenoble, placing his experience of the international science scene and his local knowledge of Grenoble at the service of the burgeoning campus. His work contributed to the development of countless collaborations and partnerships between the various members of GIANT and to marketing the strengths of the Grenoble campus internationally. Finally, since Bill's return to the ILL as Director in January 2014 he has done much to put the Institute back on a sound footing in these challenging times.
All the best to Bill and Manuel on their retirement and welcome to the new team.
The new ILL organisation chart is available here .
Bill Stirling (left) and Helmut Schober (right) on 29 September.