Date: 21/06/2019
Source: ANSTO.gov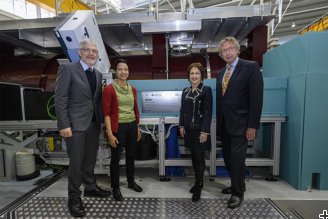 ANSTO- Spatz
ANSTO's significant neutron scattering capabilities have been extended to fifteen advanced scientific instruments with the official opening of the Spatz neutron reflectometer.
The technique used on the instrument, which relies on neutrons produced in the OPAL multipurpose reactor, is ideally suited for studies of soft matter in biomedicine, energy and materials.
The real power of this instrument is its ability to use a whole new range of sample environments that cannot currently be used on the existing reflectometer in studying surfaces and interfaces.
In 2015 Helmholtz Zentrum Berlin (HZB) generously agreed to donate their BioRef neutron reflectometer to ANSTO. The instrument arrived in February 2017.
The neutron scattering instruments all have friendly, colloquial names. Spatz is the word for sparrow in German.
Representatives from HZB and the German Consul General (Sydney) Peter Silberberg attended the event, which was officially opened by CEO Adi Paterson.
"We are delighted with the addition to our suite of scientific instruments. The process of acquiring a new instrument has been expedited greatly by the donation of our friends and collaborators at Helmholz Zentrum Berlin, who will permanently shut down their BER-II reactor at the end of 2019.
"High precision scientific instruments are built to last. Although the instrument had to be disassembled, shipped, then re-assembled and commissioned, it was all completed in about two years," said Paterson.
With some modifications and refinements, we expect it to be delivering great science, complementing our other capabilities."
More than 45 people from across ANSTO were involved in the complex task of installing 257 components using a 205-page instruction book with over 1000 photos.
The project team included instrument scientist Dr Anton Le Brun and engineer Stewart Pullen along with a range of other specialists.
The first experiments on Spatz will be conducted by a contingent of scientists from HZB and Germany.
Like all technology which involves radiation, the instrument was licensed by the nuclear regulator.
Link to YouTube video- SPATZ INSTRUMENT