Date: 20/06/2017
Source: www.cnea.gov.ar/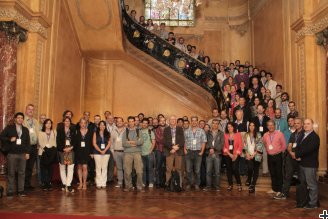 1st Argentinean Meeting on Neutron Scattering
After a successful year of promotion of neutron scattering techniques, the LAHN team organised the first Argentinean Meeting on Neutron Scattering (TN2017), held in Buenos Aires on March 15-17th.
The project for building LAHN (Laboratorio Argentino de Haces de Neutrones), the Argentinean neutron beams laboratory at the RA-10 reactor in Buenos Aires, is making good progress. After a year of intensive promotional activities, workshops and schools, the first national meeting on neutron scattering was organised in the beautiful historical building "Palacio San Martín" in Buenos Aires. Over 130 participants met there for two days, to enjoy learning state-of-the-art neutron science from a group of experts who visited us from Germany, Switzerland, Spain, Czech Republic, France, Brazil and Uruguay, as well as from experienced users from Argentina.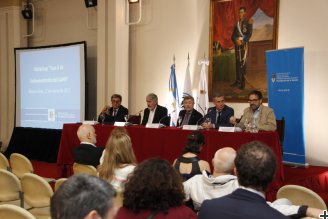 Opening panel 1st Argentinean Meeting on Neutron Scattering
A poster session allowed young people to interact with instrument scientists and developers. In addition, a Society of Neutron Scattering was founded, and its board elected. Dr. Roland Granada, whose pioneer work resulted in the creation of the LAHN project, was elected President of the ATENA (Asociación de Técnicas Neutrónicas de Argentina). The meeting was followed by a Workshop organised jointly by the National Atomic Energy Commission and the Ministry of Science and Technology, to discuss the following steps in the design and construction of the upcoming second phase of instrumentation. During the Workshop, representatives of the local scientific community presented six new science cases for powder diffraction, reflectometry, single-crystal diffraction, SANS, TAS and BNCT research. The institutions committed to work together toward the consolidation of this project as a national priority in the scientific and technological areas.