Olaf Holderer/JCNS, 26/08/2016
Source: mlz-garching.de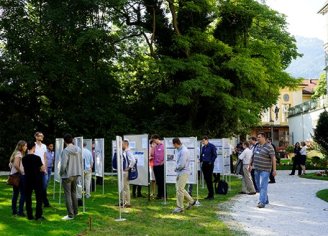 Energy researchers from around the world now came to the conference "Neutrons For Energy" in Bad Reichenhall to discuss current results and questions from various areas of energy research with neutrons. "The full potential of research with neutrons in the study of energy materials is not yet leveraged," says Prof. Dr. Winfried Petry from the organizing Heinz Maier-Leibnitz Zentrumn (MLZ).
More than 90 participants underlined the importance of energy research. Neutron scattering and imaging with neutrons can particularily examine the lighter elements such as hydrogen and lithium and thus explain the operation of batteries and fuel cells. The structure of materials and surface properties play a major role in solar cells, thermoelectric and magnetocaloric materials and were analyzed by neutron reflectometry and diffraction. For technical applications, for example, in residual stress analysis or the optimization of materials for extreme conditions such as in high-temperature materials for gas turbines, many new insights could be obtained with neutron diffraction, small angle scattering and imaging methods. Likewise positron measurements provide valuable information if the characterization of near-surface properties of materials is in focus. Prof. Dr. Thomas Brückel (JCNS and MLZ) was pleased with the almost 70 talks at the conference. "We encourage the energy researchers to further use the potential of neutron scattering."
In addition to lively discussions in front of the impressive mountain scenery, scientists and representatives of companies were able to learn even more about the long history of mining in the region on an excursion to the nearby salt mine.