Copyright 2012 neutronsources.org | All rights reserved. | Powered by FRM II | Imprint / Privacy Policy
CERIC Call for proposals
Date: 07/07/2016
Source: ceric-eric.eu
CERIC-ERIC, the European distributed Research Infrastructure offers access to over 40 different and complementary state of the art techniques, distributed in 8 different countries. A detailed description of the facilities available in CERIC can be found here: http://ceric-eric.eu/index.php?n=Users.Facilities . CERIC allows combining a wide range of methods for sample preparation and analysis in a flexible and project oriented way, through the submission of single- and multi-technique proposals through a single entry point.
What's new in this call
CERIC will select the most successful proposals and cover the cost for open access publications, as well as a conference fee (1.000 € max.) to present the obtained results. The award will be based on the results of the research performed through the CERIC facilities. The submission of the application will be possible at any time and will be evaluated by an expert committee set up by CERIC. Read more about this opportunity and check the eligibility, selection and evaluation criteria here: http://ceric-eric.eu/index.php?n=Users.PublicationSupport .
SISSI and IUVS beamlines will offer time for measurements with conventional sources.
SOLARIS is considering to offer time for "expert commissioning" of its beamlines. For further information, please contact SOLARIS directly (alicja.gorkiewicz@uj.edu.pl).
Furthermore, CERIC is starting a pilot on open access to research data. You may be asked during your experiment whether you accept to provide open access to your data.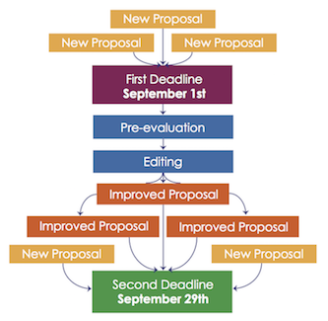 Two Steps Deadline
CERIC offers a two-steps deadline option. The 1st deadline allows having a pre-evaluation of the proposal at the facilities and, if necessary, two weeks for editing according to the suggestions received, before the final submission in the 2nd deadline. Although we suggest taking advantage of the pre-evaluation, expert users may decide to submit their proposals directly on the 2nd deadline.
Single Instruments Proposals
Single instruments proposals are admitted for the following techniques:
Deep Lithography beamline in Triest
Light and x-ray scattering lab in Graz

NAP

XPS

,

XPS

/XPD and

FESEM

in Prague

SISSI

and

IUVS

beamlines, only for use with conventional sources (not SR)

NMR

spectrometers in Lubiana

TEM

and

EPR

in Bucharest
Ion beam beamlines in Zagreb
How to Apply
Access to CERIC is open to scientists from all over the world and free of charge for academic and non-proprietary research. The only condition for free access is the publication of the results of the experiments, with appropriate citing of the facilities and local contacts involved. Proposals shall be submitted online through the Virtual Unified Office (VUO). The best projects will be selected by peer review through an independent and international panel of experts. For further information about the evaluation and how to submit successful proposals please visit our website: http://ceric-eric.eu/index.php?n=Users.Homepage .
Partial financial support for mobility will be available, in case of need, through funding provided to CERIC from the Italian Ministry for Education, University and Research.
The 1st deadline for proposals submission, with pre-evaluation and possibility of improvement is on Friday, September 1st at 17:00hs CET (recommended).
The 2nd deadline for expert users is on Friday, September 29th at 17:00hs CET.