Date: 01/04/2015
Source: http://www.ansto.gov.au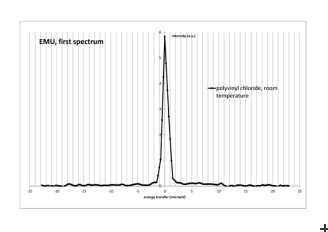 EMU - first spectrum
On April 1st ANSTO's new EMU backscattering spectrometer recorded its first spectrum, in this case from a polyvinyl chloride standard. EMU has a nominal energy-transfer resolution of 1 μeV, as can be seen in the attached figure.
This very first data set comes with no neutron alignment, the spectrometer as built, a single detector and no optimisation.
Congratulations to project leader Nicolas de Souza, and the many others who have contributed to designing, assembling and commissioning EMU over the last few years, on this important milestone.
EMU is the 13th neutron beam instrument at the OPAL Reactor.