Date: 21/10/2016
Source: biomedicum.com
The Helsinki University Hospital (HUH) and Neutron Therapeutics have entered into an agreement whereby a novel accelerator-based neutron source for boron neutron capture therapy (BNCT) will be installed at the HUH. BNCT is used to treat, for instance, locally advanced head and neck cancers.
Neutron Therapeutics sought to collaborate with the HUH due to the hospital expertise in BNCT.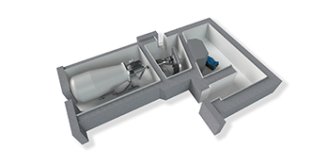 "Finland has high-level cancer research and BNCT expertise which creates a good basis for future research and development. Our goal is to work closely together to expand the clinical use of BNCT, and to investigate BNCT as the treatment of other types of cancer than head and neck cancer," says Ted Smick, CEO, Neutron Therapeutics.
BNCT was given to more than 200 patients with head and neck cancer at the HUH from 1999 through 2011 using a nuclear reactor as the neutron source. The results were judged generally favorable despite BNCT was administered to patients who no longer had a viable standard treatment option available. BNCT was stopped when the nuclear reactor was closed down. Neutron production technology has now advanced so that neutrons of suitable energy and quantity for BNCT can now be produced with an accelerator placed in a hospital environment.
What is BNCT?
BNCT, or boron-neutron capture therapy, is a biologically targeted form of radiation therapy. Boron-containing amino acids are first infused into a peripheral vein. As most tumors accumulate amino acids more than healthy tissues, boronated amino acids are taken up at greater quantities by cancer cells. Next, the tumor region is irradiated with neutrons of suitable energy. The boron atoms residing in cancer capture neutrons, and split into highly reactive particles (alpha particles and lithium nuclei) that have a short path length in tissue and destroy selectively tumor tissue. The treatment thus spares healthy tissues. Another advantage is that the required radiation dosage can sometimes be given as a single treatment.
"Patients with recurred head and neck cancer are the primary target group for the treatment. However, the method can be used to treat other tumor types that accumulate boron and arise at a location suitable for BNCT. We have previously given BNCT successfully combined with conventional radiation therapy and cancer medication," says Heikki Joensuu, Research Director, the HUH Comprehensive Cancer Center.
Treatments scheduled to commence in 2018
BNCT is scheduled to commence in the mid of the year 2018. The treatment facility will be constructed next to the HUH Cancer Center.
Installing of a high-performance proton accelerator, coupled with a new method to convert a proton beam into a high-quality neutron beam well suited for BNCT, will strengthen the position of the HUH Comprehensive Cancer Center as a major cancer research and development center.
"We plan to provide this treatment to Finnish patients as a part of the public healthcare system. In addition, we intend to make BNCT available for foreign patients at the HUH", states Petri Bono, Medical Director, the HUH.
Additional information:
Heikki Joensuu, Research Director,

HUH

Comprehensive Cancer Center, tel. +358 40 72 10 438
Seppo Pakkala, Chief Medical Officer, Neutron Therapeutics Finland, tel. +358 50 559 6549
Petri Bono, Medical Director,

HUH

, tel. +358 50 427 0943