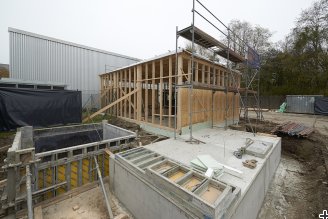 Hall for ultracold neutrons
South of the Maier-Leibnitz Laboratory a hall in wood construction is currently being built. From next year on, it will house the mock-up for the cooling systems of the ultracold neutron source at the FRM II.
The hall was necessary in order to be able to test the large cooling systems the source of ultracold neutrons in non-nuclear operation. Only after a year of testing the compressors and gas tanks will be taken to the neutron source for the preparation of ultracold neutrons.
The foundations for three gas tanks, filled with the coolants nitrogen and helium, are already poured. The 70 square metres wide and 3.70 metres high hall consists of a wooden structure. It will house the compressors of the refrigerator, which is to ensure the cooling of the neutrons.
The ultracold neutrons are slowed down so much that they have a velocity of only about 20 kilometers an hour. Planned experiments with ultracold neutrons include the measurement of the lifetime of free neutrons and the search for an electric dipole moment of the neutron.