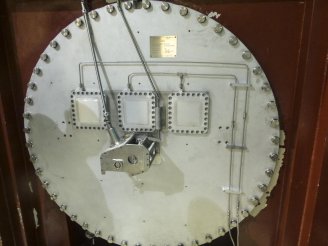 Since July 20, the FRM II again delivers neutrons. In the break, employees have finished many tasks: They exchanged the beam plug, which will guide neutrons towards the neutron guide hall east for new instruments. In addition, other maintenance works were carried out as the exchange of thimble tubes in the moderator tank.
The beam plug number 5 contained so far two channels. In order to supply the new instruments of the Jülich Centre for Neutron Science, the University of Bayreuth and the Max-Planck Society in the neutron guide hall east also with neutrons, the new plug now includes three channels. The proper disposal of the about 15 tonnes old plug as radioactive waste was and is a consuming part of the project. It was built in by the Infrastructure Group of the FRM II and manufactured by the Central Institute for Engineering, Electronics and Instrumentation (ZEA) of Forschungszentrum Jülich.
For the plug-change the scientific instrument TRISP of the Max Planck Society had been completely dismantled and parts (neutron guide, cladding tube, shielding stone) are disposed of as radioactive waste. The instrument will be rebuilt and shortly be available for measurements. Overall, this project to broaden the scientific use required besides a nine-month maintenance break an investment of several million euros.
In addition to the exchange of the thimbles in the moderator tank, the converter facility also used for tumor therapy received a new converter plate assembly in the long maintenance break. It has been successfully installed and has now been taken into operation at the beginning of the cycle.