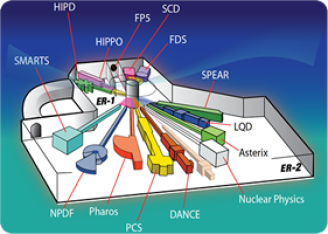 The Los Alamos Neutron Science Center is disappointed by the decision of the US Department of Energy, Office of Basic Energy Sciences (BES), to cease their operational support of the Lujan Neutron Scattering Center in fiscal year 2015. For the past two decades, the Lujan Center has been operated through a partnership between the NNSA and BES. The Los Alamos National Laboratory, the NNSA, and the other research sponsors are assessing the impact of the decision from BES on FY15 operations of the Lujan Center.
The FY15 President's budget submission, released on March 4, stated "The BES operations of the Lujan Neutron Scattering Center will cease and funding is requested for safe storage of facility components". The Lujan Center has been an international center of excellence and innovation for basic and applied research in neutron scattering and fundamental nuclear physics. The Lujan Center provides scientific users from almost every state in the nation unique capabilities for scientific research in material science, chemistry, biology, nuclear science and technology. The Lujan Center has a distinguished record of innovation and contribution to our nation's neutron scattering capability, a significant record of accomplishment in executing research of great importance to US scientific competitiveness and national security, as well as a long history of training new users in the United States. We will keep our users informed on this developing situation and the path forward.
The LANSCE User Group welcomes input from the scientific community on the impact of the decision from BES: http://lansce.lanl.gov/users/lug/lugec.shtml.
For more information on the Lujan Center User Program, please contact the Lujan Center User Office at: lujan-uo@lanl.gov.