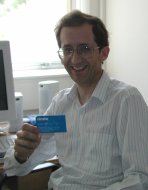 Richard Heenan isn't really sure why he got the job at what was then the Spallation Neutron Source. "I'd done a PhD and two post docs, but I've never done a SANS experiment. But it looked like an exciting job so I thought I'd apply!" The job in question was instrument scientist on LoQ, a small angle neutron scattering (SANS) beamline to be built in the first phase of instruments, and thirty years on Richard is a global expert on the SANS technique. This week sees a meeting on Future Applications of Small-Angle (Neutron) Scattering to Soft Matter, which will also celebrate Richard's (partial!) retirement.
SANS works by scattering neutrons off the sample to determine the size, shape and orientation of molecules or nanoparticles, grains in alloys, or the voids in porous materials.
When Richard arrived at the Rutherford Appleton Laboratory on 30th April 1984, target station 1 was still under construction, and LoQ was partway through construction. To get a better understanding of what the instrument would deliver, Richard was sent to the ILL in Grenoble to observe a SANS experiment on the D11 instrument there.
However, spallation based sources at that time were not considered ideal for SANS in comparison to reactor based sources like the ILLi. This was something Richard set out to change with LoQ. In a presentation to the International Collaboration on Advanced Neutron Sources in 1985 he predicted, "In fact the LoQ machine at the SNS will be very competitive with reactor based instruments".
It didn't take long for LoQ to be generating results. First users arrived in summer 1987, and by October 1988 the first LoQ paper was published, in Chemical Physics Lettersii. It was the first of many – Richard is now an author of over 300 papers, the majority of which are the results of SANS experiments. Julian Eastoe, now Professor of Chemistry at the University of Bristol was one of Richard's first collaborators.
"I have known Richard Heenan since 1988, and he has been a very important person in my career, a close collaborator, colleague and confidante. In fact, a database search shows I am the most frequent co-author with Richard, and our close collaboration has resulted in 102 joint publications since 1992, averaging about one every 3 months. From the outset he was very supportive, taking interest in our research and offering (quiet) guiding words of wisdom: helping us minimise mistakes and think again about some of our more outlandish interpretations. For the Bristol group Richard has been unusually generous with his time, knowledge and experience and has made essential contributions to the research output over nearly 25 years. In fact I consider Richard to be a true "'Jedi Master' of neutron scattering!"
Steve King, who has worked alongside Richard since late 1989, agrees. "Richard's contribution to the development of pulsed source SANS, and through that to the success of ISIS, should not be underestimated. Over 6% of all publications from ISIS are from just two SANS instruments; with the vast majority from LoQ. The last 27 years really have been some ride! But beyond that Richard is widely respected by his colleagues and collaborators, and many of us have benefitted from his sage advice!"
Even in the early days the SANS technique was being usefully applied in a very wide range of disciplines, and commercial applications as well. In 1985 LoQ was expected to have applications in "biology, materials science, colloid chemistry, polymer physics, magnetism etc"iii. Richard's publication list includes papers on ionic liquids, microemulsions, drug delivery, cavitation damage in steel and studies of chemical warfare elements. And the LoQ instrument has now measured just shy of 200,000 datasets!
Pete Dowding, now a research scientist for Infineum, has been using SANS since 1992. He says, "Like probably the majority of students on their first run I was somewhat overwhelmed by TS-1 and the "big-science" going on. I was also impressed by Richard who was our local contact for the experiment. I still have a clear picture in my mind of Richard looking at the raw data and telling us the properties of our micelles and wondering how can you tell so much from a 2-D image?!"
"When I joined Infineum in 1992 it became clear that we needed neutrons. The additives in engine oils prevent damage to the engine through lubrication, and can improve fuel economy. We have (and continue to) perform experiments on LOQ (and SANS 2D) to understand at the atomic scale how calcium carbonate particles in the additives form. As a new hire to industry, Richard's calmness and expertise were very reassuring. Getting back into SANS also reacquainted me with FISH, the fitting software Richard wrote. Fitting can be challenging for industrial systems and I was very happy when Richard mailed me to say FISH for Windows was available! It is testimony to his skill that I now use SasView and Mantid on a daily basis and through our neutron work at RAL (and other sites) it has allowed us to not only use the products we make more efficiently but to also to improve vehicle performance in the future."
The value of a technique like SANS can only be realised if data can be collected and understood. So while the instrumentation is vital, so too is the knowledge of how it works. As Richard says, "We have to provide good instruments, but we also have to train people to use them. A lot of my time has been spent helping others get the most out of their experiments – you have to help the users to get the most out of their data."
This was fully recognised by the user community. David Steytler, now retired from the University of East Anglia was another long term collaborator, and Pete Dowding's supervisor. He says, "We have to thank Richard, not only for building top class equipment and software to support SANS users at ISIS, but also in going way beyond the call of duty in so many ways to provide help and expertise. He made a mammoth contribution – we are truly in his debt."
When Richard joined in 1984 data analysis software was developed uniquely for individual instruments. Ray Osborn, who was helping Richard on LoQ, wrote the bulk of the COLETTE reduction program while Richard was responsible for the details of the reduction algorithms. His philosophy was simple, "I like building things and writing software that actually helps people – make the software the slave to you and not the other way round!" Although this wasn't always possible, particularly in the early days. "First thing I would do in the morning was check the chopper and computer were working – it would fail roughly once every 2 weeks!" Remote access was also an issue. "I had an Atari and a modem at home [supplied by ISIS], but they often failed, so sometimes it was quicker to just drive in!"
The instrument itself hasn't remained static. Since 1984 the instrument has been rebuilt twice, and is now on its third main detector. And when Target station 2 came online in 2009 SANS2D, which Richard designed, was among the first suite of instruments there. Two more SANS instruments form part of the second phase; Larmor, currently commissioning, and Zoom which is currently under construction. Despite this new capacity, the SANS instruments are oversubscribed by a factor of 2-3.
Although Richard is retiring from ISIS, he is not leaving the world of neutron scattering altogether. He is currently spending 2 days a week helping the design and implementation of LOKIiv, a broadband SANS instrument which is expected to be one of the first to come online at the European Spallation Source in Lund, Sweden. And in his remaining spare time he is planning extensions to his model railway!
Pete Dowding says, "It has been an honour and a privilege to work with Richard over the years and we were delighted to have his final experiment as local contact on LOQ in December 2015. His sense of humour and expertise helped us through some of the more challenging times on SANS runs and we are very grateful for his help and friendship."
Sarah Rogers is the instrument scientist on SANS2D, and has been a SANS user before that. She says, "'Working with Richard over the last sixteen years, as both a user and a colleague at ISIS, has been a blast. Commissioning SANS2D alongside him was a fabulous and quite unique learning experience, sprinkled with plenty of laughter along the way. I am very grateful to Richard for his generosity with both his time and vast SANS knowledge – I still have plenty to learn! I will certainly miss being able to nip to his office with some peculiar SANS data and saying "Have you ever seen anything like this before?" and then sitting down to discuss what the next steps in data fitting could be. The LOKI team are very lucky to have him!'
i LOQ – The Small Angle Diffractometer at the SNS, ICANS, July 1985
ii Microemulsion-based gels : A small angle neutron scattering study, Chem Phys Lett 151 (1988): 494.
iii "Neutron scattering instruments at the SNS A guide for potential users", February 1985.
iv https://europeanspallationsource.se/loki-broadband-sans-instrument