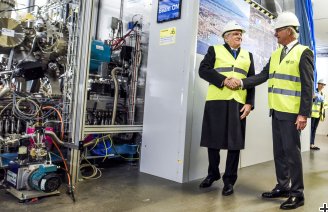 State Visit
High-level Swedish and Italian delegations, led by King Carl XVI Gustaf of Sweden and President Sergio Mattarella of Italy, came together to inaugurate the first major technical components to be commissioned at the European Spallation Source: the Accelerator's Ion Source and LEBT.
LUND—Commissioning of the first major technical components of the European Spallation Source (ESS) is underway. The machine was jointly inaugurated by Sweden's King Carl XVI Gustaf and Italian President Sergio Mattarella in an event held this morning at the ESS construction site. The Italian president is on a three-day state visit to Sweden.
Also in Lund for the ceremony were Queen Silvia of Sweden, Mrs. Laura Mattarella, the president's daughter and First Lady of Italy, Swedish Minister of Higher Education and Research Helene Hellmark Knutsson, and Ricardo Antonio Merlo, Secretary of State of the Italian Ministry of Foreign Affairs and International Cooperation.
"The relations between [Italy and Sweden] are of great collaboration," said President Mattarella in a statement to the press on Tuesday at the Royal Palace in Stockholm. "I am pleased that this visit is oriented to retrace many aspects of the advanced technological frontier that Sweden represents. I believe that the collaboration between our countries will develop further in the field of technological advancement and in the application to the business sector of new scientific advancements."
You can read more about Italy's In-Kind contributions to the European Spallation Source here.