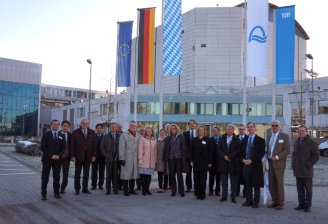 On 24 November 2015 the G7 Non Proliferation Directors Group visited the Neutron Source Heinz Maier-Leibnitz (FRM II) and the Heinz Maier-Leibnitz Centre for Neutron Research (MLZ). This visit took place in the framework of the G7 presidency of the Federal Republic of Germany and upon invitation of the Federal Foreign Office.
The high ranking government representatives from the United States, Canada, Japan and Europe were accompanied by Ms. Susanne Baumann, deputy commissioner for arms control and disarmament of the German Government.
Their tour included the nuclear installations and the scientific instruments. The guests were very much impressed by the scientific potential of the neutron source and they also discussed about the conversion to high density fuels with lower enrichment.