Date: 19/09/2017
Source: www.mlz-garching.de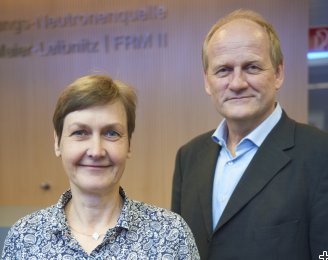 Chairmen of the KFN
In May / June the neutron users in Germany elected their representatives, the 11th committee Forschung mit Neutronen (KFN). A total of 15 candidates threw their hats in the ring and since 18.9. 2017 Astrid Schneidewind (FZ Jülich) is the new KFN chairman. Markus Braden (University of Cologne) is the new deputy chairman and is also responsible for the topics of infrastructure and instrumentation. Other areas of responsibility are represented by Regine v. Klitzing (public relations), Wiebke Lohstroh (ENSA), Klaudia Hradil (Digital Agenda) and Andreas Meyer (participation of German universities at the ESS).
The committee consists of seven members elected from all neutron users and of guests. The elected members are representatives of the centers that conduct neutron sources for the research, while the guests represent in the committee the project responsible party for the research of condensed matter (PT-DESY), the BMBF and the DFG.
An important task of the committee is the regular dialogue between the users of neutrons, the operators of neutron sources, as well as the representatives of the BMBF's responsible department and the project sponsor. In addition, in general discussions with representatives of committee Forschung mit Synchrotronstrahlung and Forschung mit nuklearen Sonden und Ionenstrahlen, major questions regarding the use of large scale facilities are clarified.
The KFN represents all scientists in the Federal Republic of Germany who work with neutrons and is an important contact for all questions concerning research with neutrons for domestic and foreign organisations. In addition, the KFN represents German users in the European Neutron Scattering Association (ENSA) and thus further fulfills an important task.