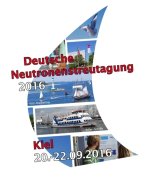 All neutron users are invited to submit abstracts for the German Neutron Scattering Conference 2016. The conference will take place in Kiel from Sept. 20 to 22, 2016 and it covers the entire bandwidth of research with neutrons (condensed matter physics, nuclear and particle physics, chemistry, biology and medicine, materials science, geosciences, cultural heritage, magnetism and superconductivity, soft matter, nanostructures and interfaces, neutron radiography and tomography and last but not least, methods and instrumentation).
Four minisymposia with invited speakers will focus on the topics:
Proteins: Dynamics and interactions
High brilliance compact neutron sources – status and perspectives
Neutron spectroscopy for dynamics in confinement
Materials characterisation
The conference language is English.
Abstract deadline: April 15, 2016
Notification of abstract acceptance: end of May 2016
Registration and payment until July 31, 2016
Details on abstract submission, registration and information can be found at the conference website (https://www.sni-portal.de/dn2016/index-engl.php).
We encourage young scientists to submit a talk or a poster. The conference fee, which is as low as 50 €, is supposed to allow attendance for young researchers.
The Deutsche Neutronenstreutagung 2016 (German Neutron Scattering Conference 2016) is initiated by the Komitee Forschung mit Neutronen (KFN) and organized by the Helmholtz-Zentrum Geesthacht and the Christian-Albrechts-Universität zu Kiel. On the evening of Sept. 21, 2016, the conference participants are invited for a round cruise on the Kieler Förde onboard the "Adler Princess".