Copyright 2012 neutronsources.org | All rights reserved. | Powered by FRM II | Imprint / Privacy Policy
Communicating collaboration – communications officers met in Lund
The SINE2020 and brightnESS projects organised a meeting of communications officers to strengthen collaboration.
Date: 11/03/2016
Source: Inês Crespo, sine2020.eu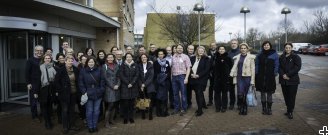 20160307_commsmtg_familypic.jpg
SINE2020 and brightnESS are two new neutron scattering collaborative projects, both with a focus on the construction of the European Spallation Source (ESS), which started in the end of last year. Given that the projects have a number of common partners, we thought it was a good idea to organize a joint meeting with the communication officers of the participating facilities. The meeting was held at the ESS Headquarters in Lund on March 7, and counted with 32 attendees.
The agenda was rather interesting. Participants heard the latest news on the ESS construction, and got to know more about the brightnESS and SINE2020 projects, including the plans for the outreach activities. We also learned that the region where ESS is based is very fruitful in terms of innovation as well as scientific collaborations. Examples of that were the presentations on the "ESS & MAX IV: Cross border science & society" project and the "Nordic Neutron Science Programme".
Here is an overview of what the meeting offered:
Welcome and status up-date on

ESS

, Allen Weeks,

ESS

BrightnESS, Raquel Costa, Ute Gunsenheimer,

ESS

, and Rikke Nielsen,

DTI

SINE2020 and Neutronsources.org, Inês Crespo,

TUM

/SINE2020

ESS

&

MAX

IV: Cross border science & society, María Fernanda Bocángel, Invest in Skåne

ESS

construction site – guided bus tour, Roger Eriksson,

ESS

Nordic Neutron Science Programme – The school-network effort, Kim Lefmann, Uni. Copenhagen
Communicating for impact, Terry O'Connor,

STFC

Latest trends and developments in digital communication, Benny Gommers, NovaComm
Meetings like this one are very important to strengthen collaboration between communications officers of neutron facilities. Knowing each other better and sharing experiences makes future communications easier when e.g. publications arise from experiments conducted at different facilities. Let's keep our collaboration going!
Photos

Joint Communications Officers Meeting in Lund

Joint Communications Officers Meeting in Lund

Joint Communications Officers Meeting in Lund

Joint Communications Officers Meeting in Lund

Joint Communications Officers Meeting in Lund

Joint Communications Officers Meeting in Lund

Joint Communications Officers Meeting in Lund

Joint Communications Officers Meeting in Lund

Joint Communications Officers Meeting in Lund