Date: 03/04/2015
Source: http://lansce.lanl.gov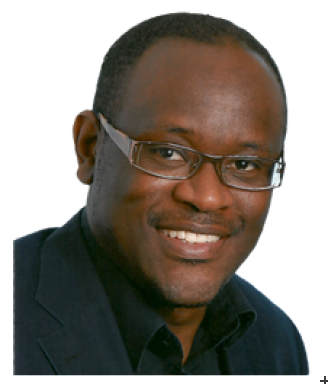 Dr. Edwin Fohtung
Dr. Edwin Fohtung has been named the 2015 Rosen Scholar at the Los Alamos Neutron Science Center of Los Alamos National Laboratory and is the current LANSCE Professor in conjunction with the Department of Physics at New Mexico State University. A materials physicist, Edwin obtained his PhD from the University of Freiburg in Germany and performed research at ANKA Synchrotron Light Source Facility at the Karlsruhe Institute of Technology in Germany. During this time he became fascinated with the use of neutrons and (in)coherent photons for the study a wide range of condensed and soft matter systems.
Edwin's current research explores (via experimental and numerical modeling) the use of neutron and coherent scattering techniques, optical (laser-based) pump-probe experimental techniques, pulsed electric and magnetic fields to probe a variety of emergent soft and condensed matter systems. He currently focuses on multiferroics, magnetoelectric, electronic, straintronics, and magnetic phases arising due to competing and/or coupled charge, spin, orbital ordering and lattice interactions. In addition to his research activities, Edwin provides scientific consultation for the future LANL signature facility: Matter Radiation Interaction in Extremes project. He is a guest editor of the Journal of Optics special issue on "Coherent Diffractive Imaging" and serves as a member on the ORNL Neutron Sciences Science Review Committee. Edwin is also the recipient of a Department of Defense Air Force Office of Scientific Research and Los Alamos National Security / Department of Energy awards.
The Rosen Scholar
The Rosen Scholar is a fellowship created to honor the memory of Louis Rosen, his accomplishments, hard work, and affection for the broad range of science performed at LANSCE. Louis Rosen's outstanding leadership and scientific career at LANL covered six-and-a-half decades and included conception of the Los Alamos Meson Physics Facility (LAMPF), during 1960, that culminated with its commissioning in 1972. LAMPF was a unique nuclear science research tool through the 1990s. Now called LANSCE, the facility continues to play a paramount role in basic sciences and national security needs for the country. From his scientific vision to his kind and effective mentoring, Rosen's tenure, from the Manhattan Project in 1943 till his passing in 2009, exemplified the best in leadership at all levels.
The Rosen Scholar fellowship is intended to attract visiting scholars to LANSCE in the fields of Nuclear Science, Materials Science, Defense Science or Accelerator Technology. The Rosen Scholar is reserved for individuals whose career accomplishments in fields of research covered by LANSCE Facilities are recognized as outstanding by the scientific community and exemplifies the innovative and visionary qualities of Louis Rosen. The Rosen Scholar brings his/her scientific expertise to LANSCE as well as the broader LANL scientific community.