Date: 11 March 2020
Source: FRM2/MLZ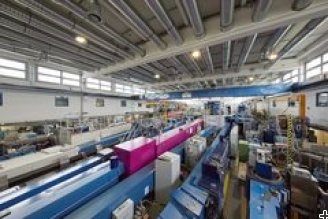 neutron guide hall of the MLZ
The Heinz Maier-Leibnitz Research Neutron Source receives around 350,000 euros in funding from the EU to continue its cooperation with large-scale Russian research institutions. The project CREMLINplus was officially launched in Hamburg at the end of February.
The cooperation in European-Russian research with neutrons already started in 2015 within the Horizon 2020 infrastructure project CREMLIN (Connecting Russian and European Measures for Large-Scale Research Infrastructure) and will now be continued under the umbrella of the extended follow-up project CREMLINplus. The CREMLINplus consortium brings together 35 partners, 10 of which are from Russia and 25 from the EU and associated countries, and will receive a budget of 25 million euros over the entire four-year period. The three partners of the Heinz Maier-Leibnitz Zentrum – Technical University of Munich, Forschungszentrum Jülich and Helmholtz Zentrum Geesthacht – will receive a combined share of around 1.5 million euros.
The aim of the project, coordinated by DESY in Hamburg, is to achieve a much higher level of cooperation between EU and Russian partners in the field of large-scale research facilities. To this end, the project builds on the findings and recommendations of its predecessor and consists of three pillars: 1. the promotion of scientific and technical cooperation between European-Russian teams on large-scale analytical and physical Russian research projects, such as the PIK neutron source. 2. the development of a procedure for access to large-scale Russian research facilities on the basis of a clearly defined set of criteria, thereby facilitating access to Russian facilities for European users. 3. a comprehensive training and education programme for Russian and European managers at large-scale research facilities.
The development of novel neutron sources is being funded
Research with neutrons will be funded within the project with a total of 4.3 million euros, which will be used primarily for the planning and development of novel neutron sources. The background of this core topic is the decreasing capacities for research with neutrons in Europe due to the age-related decommissioning of numerous sources in the past and the coming years. Further priorities are to plan the instrumentation at the Russian PIK-2 research reactor in such a way that it optimally complements the instruments at the main European neutron sources and to develop a user-friendly platform. The task of the TUM will be to provide advice on the instrumentation of the PIK-2 research reactor and to help with the development of a user office system.