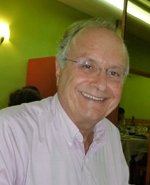 The nominations received for the 2013 Walter Hälg Prize were examined by an international selection committee consisting of authorities representing the major scientific disciplines, both within and beyond the field of neutron scattering. After considerable deliberations it is a great pleasure to announce that the winner of the 2013 Walter Hälg prize is Professor Joe Zaccai.
The committee has awarded Prof. Joe Zaccai the prize in recognition of his pioneering contributions to the application of neutron scattering to a range of biophysical and biochemical problems in biology, which has provided important insights in the debate on the relationship between molecular structure and dynamics and biological function, and for his leading advocacy of the role of neutron scattering in biological research.
Every two years the European Neutron Scattering Association, ENSA, awards the prestigious Walter Hälg Prize to a European scientist for an outstanding programme of research in neutron scattering with a long term impact on scientific and/or technical neutron scattering applications. The prize was first made available to the European Neutron Scattering Association (ENSA) by a donation from the late Professor Walter Hälg who was the founder of neutron scattering in Switzerland. His wife Madeleine Hälg-Degen continues to sponsor the highly prestigious ENSA prize in his name.