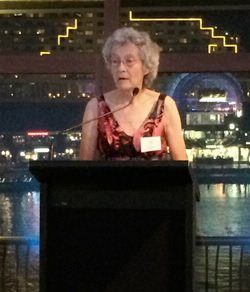 Please join us in congratulating Dr. Margaret Elcombe, who has just been awarded the 18th Women in Nuclear Global Award, for "Significant Contribution to Leadership, Education, Mentoring and Communication, in applications of Nuclear Science and Technology".
The award was made by Se-Moon Park, President of Women in Nuclear Global, at the 22nd WiN Global Annual Conference, which is taking place in Sydney between 20 and 25 October.
Margaret retired from the Bragg Institute in July 2008, after 41 years of employment and service at ANSTO and its predecessor the Australian Atomic Energy Commission, and she continues to participate in Institute life in an emeritus capacity.