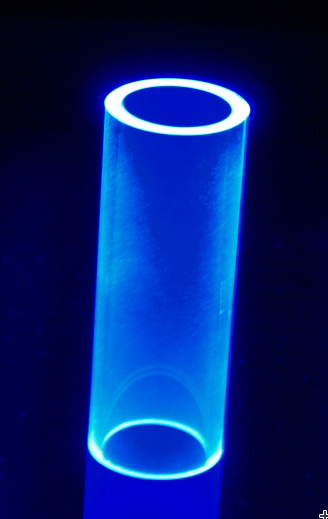 Li-6 neutron sensitive glass
Applied Scintillation Technologies Ltd (Appscintech) is pleased to announce it has been granted European and American trademarks for its 6Li doped cerium aluminosilicate thermal neutron glass: GS20®.
Appscintech has been involved with the lithium-6 enriched glass since 1958 (then Levy West Laboratories) when it started manufacturing the glasses based on the SIRA work by Anderson et al. As the sole manufacturer of GS20® glass scintillators and with over 60 years of experience and full materials traceability Appscintech is trusted as an integral part customer supply chains.
GS20® glass scintillators have been adopted as the enabling technology of choice by top tier oilfield service companies. The thin-walled precision machined and polished cylinders are a most suitable solution for integration into porosity logging tools due to its robust properties which make it suitable for use in high temperature and high shock environments. Porosity tools often feature two cylinders (arranged in a near and far configuration), which detect the unique thermal neutron signature from oil-bearing rocks while discriminating against gamma rays which could interfere with the signal.
A fast neutron source is used to irradiate the rocks around the drill bit. The thermalised neutrons resulting from the interaction with oil-bearing rocks are converted by the scintillator into light. This is in turn detected by a photomultiplier tube to give a characteristic thermal neutron peak.
The low response of this glass scintillator configuration to gamma allows the neutron peak to be detected without interference from these interactions. This is particularly important in this application since the neutron source used has a high gamma signal.
The Li-6 neutron sensitive glass is also used by research institutions and spallation sources around the world in neutron detection instruments. For example the ISIS centre at RAL (UK) utilise GS20® glass scintillators in their VESUVIO instrument; ORNL SNS utilises the glass in the SNAP, TOPAZ and MaNDi instruments and Zentralinstituts für Engineering, Elektronik und Analytik – Systeme der Elektronik (formerly Forschungszentrum Jülich) utilises the glass in the JULIOS instrument.
GS20® glass scintillators are also used in handheld neutron detection instruments used for homeland security applications detecting radioisotopes.
Appscintech Sales & Commercial Director Stuart Quinn stated "These trademarks will help us assert our position as the world leader in the manufacturing of glass scintillator for radiation detection."
Appscintech requests that customers publishing papers referencing GS20® glass scintillators do so in the following manner:
GS20® Applied Scintillation Technologies Ltd, www.appscintech.com
Note to editors:
Applied Scintillation Technologies, part of the TQ Scientific Group based in Harlow Essex, is a world leader in phosphor and scintillation technology manufacturing products which allow the conversion of many different radiations into light for imaging and detection. These products can be used in applications as diverse as dental X-ray imaging, industrial quality control, nuclear decommissioning, mail, baggage and cargo inspection, analytical instrumentation and radiation protection.
Press Enquiries:
James Tomlinson, Applied Scintillation Technologies Ltd, 8 Roydonbury Industrial Estate, Harlow, CM19 5BZ
Tel: +44 (0)1279 641234
Fax +44 (0)1279 413679
email: j.tomlinson@appscintech.com
Internet: http://www.appscintech.com
Other Enquiries:
Applied Scintillation Technologies Ltd 8, Roydonbury Industrial Estate, Harlow, CM19 5BZ
Tel: +44 (0)1279 641234
Fax +44 (0)1279 413679
email: sales@appscintech.com
Internet: http://www.appscintech.com