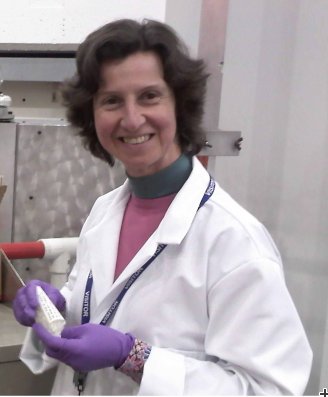 Maria Paula Marques
Maria Paula Marques
Professor (with habilitation) – Dep. Life Sciences, Fac. Science and Technology, Univ. Coimbra (Portugal)
(Information collected in November 2018)
Your studies? Scientific field?
I am an assistant-coordinator of the R&D Group "Molecular Physical-Chemistry" (QFM-UC) and head of the "Chemoprevention, – Therapy & – Toxicology" laboratory. QFM-UC encompasses the vibrational spectroscopy laboratory VIBIMA (Vibrational Spectroscopy Laboratory for Bioprobing) which is a facility of excellence in the field of optical vibrational spectroscopy, comprising state-of-the-art versatile equipment: both macro- and microRaman and FTIR (far and mid-IR) with transmission and ATR configurations. My research is centred on: (i) the development of Pt and Pd-based anticancer agents, using vibrational spectroscopy including neutron techniques and synchrotron-based methods; (ii) early diagnosis of cancer by vibrational spectroscopy techniques.
Neutron-scattering background?
I am an experienced user (neutron spectroscopy, mostly at ISIS/STFC, UK) for the last 20 years. From 2009 to 2014 I was a member of the ISIS Facility Access Panel 'FAP5: Spectroscopy' of the Rutherford Appleton Laboratory, Harwell Science and Innovation Campus of the Science & Technology Facilities Council (Oxford, United Kingdom).
Step by step to my position?
MSc in Physical-Chemistry (1987), PhD in Biochemistry (1995) and Habilitation (2018) from the University of Coimbra (Portugal). Currently a professor at the Dep. Life Sciences of the University of Coimbra.
Publications?
Authored over 130 scientific papers under the name M.P.M. Marques, 8 book chapters and co-edited 3 books.
ORCID ID: 0000-0002-8391-0055
Research Gate: www.researchgate.net/profile/Maria_Marques9
Scopus Author ID: 35569227900
URL: http://www.ci.uc.pt/qfm
Any difficulties because of your gender?
No
Contact details
R&D Centre "Molecular Physical-Chemistry" (QFM-UC)
Fac. Science and Technology, Univ. Coimbra (Portugal)
3004-535 Coimbra, Portugal
T: +351 239826541
e-mail: pmc@ci.uc.pt
URL: http://www.ci.uc.pt/qfm/
Dep. Life Sciences
Fac. Science and Technology, Univ. Coimbra (Portugal)
Calçada Martins de Freitas
3000-456 Coimbra, Portugal
T: +351 239240700
URL: https://www.uc.pt/fctuc/dcv