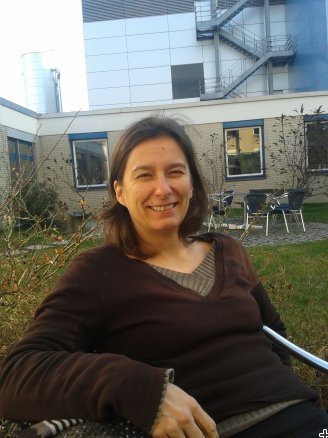 Marie Plazanet
Marie Plazanet
CNRS researcher, Grenoble
(Information collected February 2019)
Your studies and scientific field?
I studied Physics at the University in Paris. Then I did my PhD in Grenoble, in a field of chemical physics, on rotational tunnelling of methyl groups in molecular crystals. I am now interested in soft matter systems: transport of water in elastic matrices; formation and stability of molecular gels; organization and interface in biphasic aqueous systems. I mainly use an experimental approach based on spectroscopic techniques to address these questions.
Neutron-scattering background?
I have been instrument responsible at the ILL (IN5, IN6 spectrometer) for 5 years.
Step by step to my position?
2000: PhD in Grenoble
2001: Post-doc position in the Chemistry Department, University of Toronto, with Dayne Miller. Working on CO-Myoglobin (de)combination studied with transient grating spectroscopy.
2002-2006: ILL instrument scientist on IN5 (cold neutrons chopper spectrometer)
2007-2008: post-doc position at the LENS laboratory, Florence, Italy. Working on the study of complex liquids with non-linear optical spectroscopy.
2009- present: CNRS researcher position at LIPhy, Grenoble, France.
2013-2016: temporary researcher position at the Physics department, University of Perugia, Italy.
Publications
Not enough…but not too many either!
Any difficulties because of your gender?
Although we may face silly or nasty remarks sometimes, I keep thinking that our professional academic environment is quite protected. Self-inhibition is, up to me, the worst enemy of women, and the first to be fought. Men and women should avoid sexist attitudes… why don't we have profiles of men in neutron science on this website? :-)
Percentage of your time for your family/work/you?
This is the hardest part when family comes along. It requires both discipline and flexibility, everyday for many years… nothing easy according to me.
Most challenging thing you have faced in your career?
Working alone without funding.
One piece of advice you would give to a woman interested in a career in science?
Same as for a young guy!