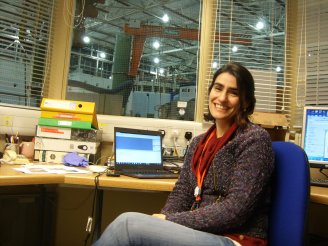 Mariela Nolasco
Auxiliary Researcher at Chemistry Department and
CICECO

, University of Aveiro, Portugal

(Information collected in July 2019)
Your studies? Scientific field?
In 1999 I obtained a Bachelor´s in Chemical Engineering and in 2003 a first University degree in Chemistry. I received my PhD degree from University of Aveiro in July 2007 on the research field of Chemistry, sub research field of Physical Chemistry. Currently I am an Auxiliary Researcher at CICECO/University of Aveiro. All my research work allowed me to evolve scientifically and acquire skills in the field of photoluminescent materials, molecular spectroscopy, DFT/TD-DFT calculations, and lanthanide spectroscopy.
Neutron-scattering background?
Since the beginning of my PhD (2004-2007) I have been lucky to perform neutron experiments. I am an experienced user (Inelastic Neutron Scattering experiments with TOSCA and MAPS, at ISIS/STFC, UK)
Step by step to my position?
1999 – Bachelor´s in Chemistry Engineering (Coimbra),
2003 – BSc in Chemistry (Aveiro),
2007- PhD in Chemistry, sub research field of Physical Chemistry (Aveiro),
2017 – Auxiliary Researcher at CICECO/University of Aveiro
Publications?
If you are interested on my work a full list can be found at ORCID
Any difficulties because of your gender?
Women are still under-represented in many areas of science, technology, engineering, and mathematics. It is up to us to change that trend.
Percentage time for your family/ work/ for you?
I work to get a commitment of 50/50 family/work equilibrium
Who or what is your mentor or greatest inspiration?
My parents are my greatest inspiration. I have also had the opportunity to work with fantastic people, but my PhD supervisor Professor Paulo Ribeiro-Claro continues to be a great mentor as well as an excellent friend.
What is the most challenging thing you have faced in your career?
The challenges in achieving effective Mentoring and Teaching as well as conducting Research.
One piece of advice you would give to a woman interested in a career in science:
Work hard every day. Don't be afraid and do not give up.
Contact details
Mariela Nolasco,
Chemistry Department and CICECO,
Universidade de Aveiro,
Campus Universitário de Santiago,
3810-193 Aveiro,
Portugal,
mnolasco@ua.pt,
http://www.ciceco.ua.pt/marielanolasco