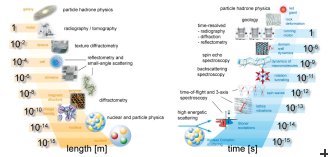 Facts
Neutrons' energy is comparable to the energy of atomic and molecular motions and high resolution microscopic dynamic analysis.
Neutrons' wavelength is comparable to interatomic distances and structure analysis from atomic to macromolecular scale.
Neutrons see nuclei as light atoms are visible in the presence of heavy ones.
Neutrons have a magnetic moment, which makes it easy to study microscopic magnetic structures and dynamics.
Neutrons are neutral and therefore highly penetrating, which allows the observation of microscopic properties of bulk samples and makes the radiography on finished industrial products (e.g. engine blades) possible.
Neutrons are non-destructive even to complex delicate biological samples.