Date: 26/10/2016
Source: mlz-garching.de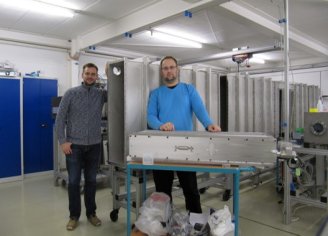 In December 2015, Dr. Thorsten Lauer was still working as a postdoc and Thorsten Zechlau as a graduate student at the FRM II. Lauer and Zechlau could convince an investor with their knowledge and their enthusiasm for neutron optics to support the founding of a company on 1 January 2016. "We would not have dreamed of that a year ago", the two founders say.
Lauer already worked during his scientific work at FRMII on research of a new generation of neutron guides. At FRM II, for this purpose he has developed a new coating facility and built and brought this know-how into the Movatec GmbH. In a short time the Movatec GmbH has developed into a successful manufacturer of neutron optics, which is already in use worldwide. It pays particular attention to the continuous development of engineering and coating systems for a wide range of neutron optics; also the scientific and technical advice is increasingly sought after.
The questions, how the first chemical elements are created in the Universe and what antimatter actually is, drives to not only the public but especially physicists. They hope to get on the track of this mystery with the help of very cold neutrons of extremely low energy and low speed. Previously, however, some technical problems need to be solved, because for this particular research neutrons must be strongly cooled, which is not easy near the reactor core. Another unsolved problem is a neutron guide for slow neutrons – a construction, research is being intensively conducted all over the world.
The German Research Foundation has been supporting research with a few million euros to address these issues, demonstrating the importance of this work impressively. At FRM II, the world's most intense source of ultracold neutrons arises, which is used by some high-precision instruments. These instruments are currently being set up in the so-called neutron guide hall east, exactly 28 meters from the reactor core removed – a downright huge distance for cold neutrons that they have to overcome. If scientists would use conventional neutron guides of polished stainless steel, the losses on the route would be with 20 % correspondingly high, because steel does not reflect the neutrons sufficiently at the walls. The required high vacuum pressure can also not be reached on such a long distance, because the surface of these requirements is still too uneven.
Thorsten Lauer and his colleagues have therefore focused on the coating of a glass tube with the isotope 58Ni, which has proven its worth in neutron optics since a long time. With great success, but the coating of a neutron guide of 28 m length and an inner diameter of 11.2 cm requires a lot of material. And 58Ni is so expensive that the price is given with several euros per gram, and only on request.
Looking for an economically acceptable solution, the scientists came across with another coating technology, the one of the super mirror. This uses a plurality of alternating thin layers, in this case of natural nickel and titanium to reflect neutrons. Producing systems were already available, but they could be used only for the coating of flat surfaces and not for the inner area of tubes.
In 2012-2015, today's company founders Thorsten Lauer and Thorsten Zechlau therefore built a coating system with a completely new geometry, which can also provide up to 60 bilayers inside tubes. This laid the foundation of a successful spin-off directly from science; today, only a few months after its foundation, the Movatec GmbH possesses three coating systems, a fourth is being finalized. Thus they are able to meet almost all coating needs of their clients.