Date: 05/01/2017
Source: mlz-garching.de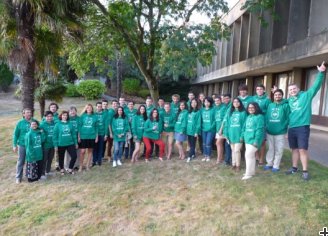 MaMaSELF group photo
Material scientists are today more important than ever, because tailor-made materials with ever-increasing complexity and functionality are in demand all over the world. To design and investigate such materials is a highly specialized task that requires appropriate training. The equipment required for this is often enormous: neutron and synchrotron sources, as well as free electron lasers.
The master program MaMaSELF (Masters in Materials Science Exploring Large Scale Facilities) within the Erasmus+ program of the European Union qualifies for this career. It offers students an excellent education, diverse experiences and worldwide contacts, which will be an important support to them in the future. The two-year master's course includes studying and graduation at two prestigious European universities: Ludwig-Maximilians-University and Technical University Munich, Université de Rennes 1, Université de Montpellier, France, and Unversità di Torino, Italy. Prerequisite for the application is a bachelor's degree in material science, physics, chemistry, geosciences or related disciplines. The language is English and for selected candidates there is a scholarship from the EU.
Students can now apply for the Master Program. The application deadlines are different for the country of origin: for non-EU students, they will end on 31 January 2017; EU students must apply until 28 February 2017. All those who do not need a scholarship will have time until 15 May 2017.