Related News
Copyright 2012 neutronsources.org | All rights reserved. | Powered by FRM II | Imprint / Privacy Policy
Canadian State Visit Puts ESS Collaboration in the Spotlight
Royal Visit.The European Spallation Source was the site of a roundtable discussion featuring King Carl XVI Gustaf of Sweden, the Governor General of Canada, and the research ministers of the two nations. The focus was on collaboration between Canada's and Sweden's science, industry and research infrastructures.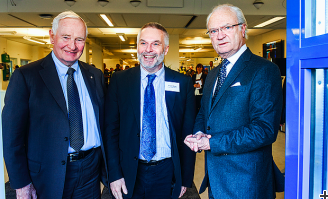 Canadian State Visit Puts ESS Collaboration in the Spotlight
LUND—King Carl XVI Gustaf of Sweden and the Governor General of Canada, David Johnston, visited the European Spallation Source (ESS) yesterday afternoon as part of a four-day Canadian state visit to Sweden. During the visit, current and future collaboration possibilities between Canada and Sweden were discussed. The Swedish Minister for Higher Education and Research, Helene Hellmark Knutsson, and the Canadian Minister of Science, Kirsty Duncan, also participated in the visit to ESS.
"I was delighted to visit the construction site of the European Spallation Source and to learn more about this impressive facility," the Governor General said. "The complexity of this important research project means we have much to gain from working together. I look forward to the results of continued collaboration between Canadian and Swedish innovators and researchers."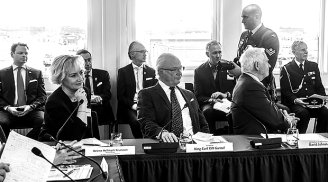 From the site office viewing deck, the Swedish monarch, the Governor General and the Swedish and Canadian delegates were given an overview of the rapidly advancing progress of the world-leading materials research facility. The unprecedented neutron scattering capabilities of ESS will enable unique research possibilities and contribute to future big discoveries in, for example, life science, transport, alimentation and energy.
"Canada is an important collaboration partner for Sweden and we hope through this state visit to increase our collaboration within research and innovation," said Helene Hellmark Knutsson. "As host country for ESS, Sweden welcomes international partners in this global research infrastructure project."
Roundtable on Collaboration and Innovation Facilitated by ESS
The large delegations from Canada and Sweden included representatives from government, industry and academia. The heart of the visit was a 14-person roundtable discussion that highlighted the significance of facilities like ESS, the MAX IV Laboratory and the Canadian Light Source. As collaborative research and innovation hubs, these infrastructures have the potential to address the societal challenges of climate change, unprecedented expansion of global information networks, and the development of the next generation of researchers.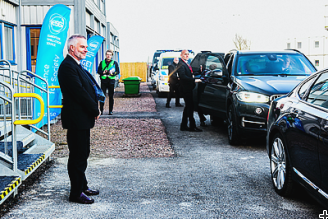 Canadian State Visit Puts ESS Collaboration in the Spotlight
"These large research infrastructures are wonderful places to collaborate," said Christoph Quitmann, Director of the MAX IV Laboratory, a synchrotron light source commissioned last year and situated just south of ESS. "They bring people from all trades, from all countries, all fields of science together, and we have an incredibly important role in this—to solve the grand challenges. Whether it is climate, whether it is health, whether it is the next generation of industry, we can contribute to that. So I think our role is to reach out, to build bridges between academia and industry, to make sure that what scientists know becomes available for companies to exploit."
The roundtable was led by ESS Director General John Womersley and focused on cross-disciplinary research as a vital driver for sectors such as life science, clean technology, forestry, and communications technology. It was clear from the discussion that Canada's and Sweden's overlapping research priorities, strong support for R&D, and common legacy of innovation make the two nations natural partners.
"Both Sweden and Canada recognise the importance of sustained investment in the research infrastructures that are needed if we are to make progress on the key cross-cutting challenges of the 21st century, such as energy, materials, and healthcare," said Womersley. "ESS is an excellent example of such an investment and we hope that it can help to foster a deeper collaborative relationship between Swedish and Canadian scientists in the coming decade."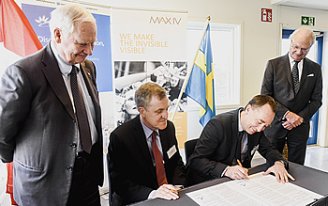 Swedish Special Envoy to ESS and former Minister for the Environment Lena Ek also participated in the roundtable discussion.
"The future that we have outside the windows I think answers the global challenges and the pull-factor that we have for new materials," said Ek. "We have forestry fibres in the heat shields of space rockets, new textiles, new combined materials, and so on. We need this kind of source to see these developments through. It will shorten the time for development for these materials, and I think this is fascinating."
Physics Nobel Laureate On-Hand for Discussions
Also contributing to the discussion was the Canadian scientist Arthur B. McDonald, Professor Emeritus at Queen's University and 2015 Physics Nobel Laureate.
McDonald, who won the Nobel Prize for his discovery of neutrino oscillations and for demonstrating that neutrinos have mass, also took part in a late afternoon session on science at ESS. He began his career at Canada's Chalk River Laboratory, where neutron scattering was first developed in the 1940s by Bertram Brockhouse. McDonald went on to become one of the initiators, and is the current director, of Canada's Sudbury Neutrino Observatory where his own Nobel work was carried out.

"This is fascinating for me, I'm like a kid in a candy shop," said McDonald. "One needs a balance between support for fundamental science and for innovation activities… I think the sort of thing that's happening here, particularly the combination of great synchrotron light and great neutron scattering that enables you to understand materials in different ways is just the sort of thing that you need to have. I really applaud what you're doing here, and the international cooperative nature of it."
MoU Signed Between MAX IV and the Canadian Light Source
Underscoring the theme of cooperation, MAX IV's Quitmann, and the Executive Director of the Canadian Light Source, Robert Lamb, came together after the roundtable to sign a Memorandum of Understanding for continued cooperation between their two synchrotron facilities, scientific work that is already underway.
"What we really are is a bright light that is enabling greater science," said Lamb in his roundtable remarks. "One of the key things is that you can shine that light on anything, so if you decide you want to shine that light on the area of health or agriculture you can see things you couldn't see before. We're starting to see it's more than just the instruments, it's how you use the instruments that's critical. Having said this, of course, this is the greatest instrument…and I want one. This really is the ultimate instrument at this point in time."